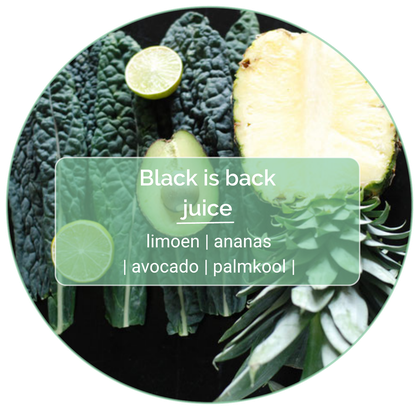 Dit sapje heb ik gemaakt met de vergeten groenten palmkool of zwarte kool zoals deze prachtige kool ook wel genoemd wordt. De bladeren van deze kool zijn zo donkergroen dat ze soms wel zwart lijken vandaar de naam.
Deze kool is een zusje van de boerenkool en is super gezond.  Palmkool heeft de mooie eigenschap om het risico op kanker te verkleinen,  vooral als je de kool rauw gebruikt. Ik vind deze kool om rauw te eten niet echt een succes dus wat doe je dan?
Precies even in de slow juicer of in de blender stoppen.
Gereedschap: Slowjuicer
Ingrediënten:
- 1 limoen ( schil verwijderen)
- 1/2 ananas 
- 1/2 avocado
- 300 gram palmkool
Stop alles één voor één in je slowjuicer dan heb je in een handomdraai een heerlijk (zwart) sapje.
Enjoy!